Season's Greetings from Scandinavian Society of Periodontology
Posted 22.12.2016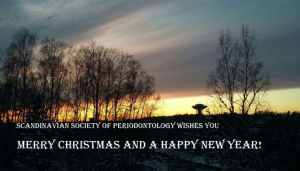 Dear members of Scandinavian Society of Periodontology,
We wish you Merry Christmas and a Happy New Year and hope that 2017 brings joy and happiness to your life!
After this year's successful ScSP Congress in Malmö, ScSP organizes its coming 2017 meeting in Mariehamn, the capital of exotic Åland islands. In the meeting, we aim to find answers for periodontal therapy "Do we need to medicate to regenerate?".
Let's see you all in the beautiful archipelago of Finland in August 25-26, 2017. Don't forget to follow us from our new WEBPAGE
On behalf of ScSP
Eija Könönen
General Secretary