2019 Young Researcher Award to Aino Salminen
Posted 16.10.2019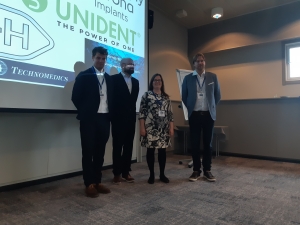 Aino Salminen (PhD, DDS, MSc Tech) works currently as a post-doctoral researcher at the Eastman Dental Institute, University College London, and as a university lecturer at the Department of Oral and Maxillofacial Diseases, University of Helsinki. Her research focuses on the systemic effects of periodontal treatment, the links between oral infections and cardiometabolic disorders, periodontal genetics, and analysis of large-scale metabolomics, proteomics, and metagenomics data.
The research presented at the Scandinavian Society of Periodontology Congress was conducted at the Department of Oral and Maxillofacial Diseases, University of Helsinki. The interdisciplinary working group responsible for the study includes periodontists, cardiologists, and biochemists from the University of Helsinki, Helsinki University Hospital, and Karolinska Institutet. The Parogene study included 508 subjects (mean age 62.9±9 years) who were assigned to coronary angiography for any reason at the Helsinki University Hospital. The general aim of the study was to examine the association and shared risk factors between coronary artery disease and oral health concentrating mainly on periodontitis. The subjects had an extensive clinical and radiographic oral examination and they represented all stages of periodontal conditions from periodontally healthy to severe periodontitis patients. Saliva and serum samples were collected, and information on diseases and medications was obtained from national health registries. Saliva IL-1β, LPS, MPO, S100A8 and S100A12 concentrations were analyzed by ELISA, LAL assay and Luminex assay. The purchase of antibiotics for 6 months prior to the oral examination was assessed from national drug imbursement records and from a questionnaire. The association between antibiotic use, the concentrations of inflammatory biomarkers, and periodontal parameters was analyzed by linear and logistic regression adjusted for age, gender, number of teeth, smoking, and diabetes.
Thirty-eight percent of the subjects had purchased antibiotics during six months preceding the oral examination. Most commonly purchased antibiotic classes were cephalosphorins (33% of all purchases) and penicillins (23% of all purchases). The use of antibiotics was inversely associated with BOP (OR 0.57, p = 0.01), suppuration (OR 0.21, p = 0.003), pockets with PPD ≥ 6 mm (OR 0.50, p = 0.02), and alveolar bone loss (OR 0.92, p = 0.03). Of the salivary biomarkers, the use of antibiotics was inversely associated with IL-1β (OR 0.62, p = 0.02) and MPO (OR 0.67, p = 0.04).
From this study, Salminen and her collegues concluded that the use of antibiotics for any reason, not only for oral indications, has an impact on periodontal parameters and salivary biomarkers for at least 6 months.
---
Professor Øystein Fardal receives the Jens Wærhaug Research Prize 2019
Posted 30.09.2019
The prize was awarded at the Scandinavian Society of Periodontology meeting in Svalbard in August.
Professor Fardal received his dental degree from the Queens University of Belfast and later graduated with a Master of Dental Surgery and a PhD from the same University. He did his graduate training in Periodontics at the University of Toronto and received an Honorary Chair at the University of Aberdeen in 2017.
Professor Fardal's research focuses on the long-term results of periodontal and implants therapy in private practice. The results are both objectively measured and focused on patients' inputs.
The main strength of Professor Fardal's innovative research is that it is carried out in private clinical practice with the same operator over a long period of time in a catchment area with a stable patient population. This is highly relevant, as the majority of dental treatment is carried out in private practice worldwide. In addition, there is generally a scarcity of high quality of research from private practice.
The high quality of the research is manifested by the fact that most articles (nearly 40) are published in top rated international journals. The Journal of Clinical Periodontology and the Journal of Periodontology have published most of the work and the articles have so far received more than 1000 citations. Nearly all the papers have Professor Fardal as the first author.
The award was presented by Jens Wærhaug's granddaughter Eva Nordendahl.
The prize giving was followed by a presentation of some of the research by Professor Fardal including his personal comments, suggestions of future research and a critical view on some of the contemporary research.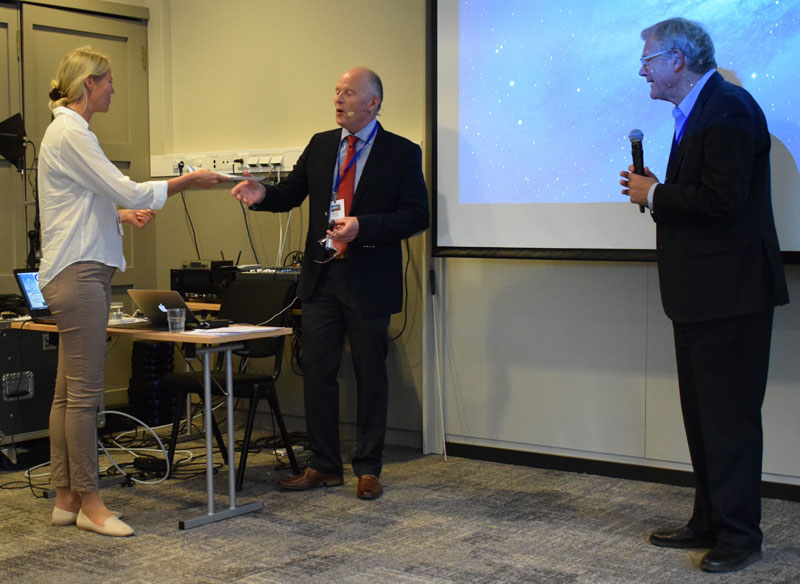 ---
Final Program of the ScSP Meeting Svalbard 2019
Posted 20.03.2019
Program ScSP meeting Svalbard 2019
Thursday 29th of August
18:00 - 20:00 Registration and welcome reception, finger-food, welcome drink & mingle at Radisson Blu Polar Hotel
Friday 30th
08:15 - 08:50 Registration and poster mounting
08:50 – 09:00 Opening address
Bjørn Klinge, President of ScSP and Odd Carsten Koldsland, Conference Chair
Peri-Implant Diseases and Conditions
(Chair: Anders Verket)
09:00 – 09:50 World Workshop, Working Group 4
Tord Berglundh (University of Gothenburg)
09:50 – 10:10 Open discussion
10:10 – 10:20 Sponsor presentation: Labrida
10:20 – 10:45 Coffee, Exhibition & Posters
Periodontal Health and Gingival Diseases and Conditions
(Chair: Palle Holmstrup)
10:45 – 10:55 Sponsor presentation: W&H
10:55 – 11:45 World Workshop, Working Group 1
Iain Chapple (University of Birmingham)
11:45 – 12:00 Open discussion
12:00 – 13:00 Lunch
Non-plaque induced gingival diseases
(Chair: Bjørn Klinge)
13:00 – 13:10 Sponsor presentation: Sunstar
13:10 – 14:00 Non-plaque-induced gingival diseases
Palle Holmstrup (University of Copenhagen)
14:00 – 14:20 Open discussion
14:20 – 14:30 Sponsor presentation: Unident
14:30 – 15:00 Coffee, Exhibition & Posters
Jens Wærhaug lecture and General Assembly
15:00 – 15:45 Jens Wærhaug lecture (to be announced)
15:45 – 16:00 Open discussion
16:00 – 16:50 General Assembly
Conference dinner
19:00 "Huset" (Bus transportation from Radisson Blu polar Hotel 18:45)
Saturday 31st
08:30 – 09:00 Registration and poster mounting
Periodontitis
(Chair: Eija Kӧnӧnen)
09:00 – 09:10 Sponsor presentation: Densply
09:10 – 10:00 World Workshop, Working Group 2
Mariano Sanz (Universidad Complutense Madrid)
10:00 – 10:20 Open discussion
10:20 – 10:50 Coffee, Exhibition & Posters
10:50 – 12:00 Young Researcher Award Competition (4x15 min)
12:00 - 13:00 Lunch
Developmental and Acquired Conditions and Periodontal Manifestations of Systemic Diseases
(Chair: Ulvi Gürsoy)
13:00 – 13:30 Sponsored lecture: P&G; Stefan Renvert (Kristianstad University)
13:30 – 14:20 World Workshop, Working Group 3
Francis Hughes (Kings College London)
14:20 – 14:40 Open discussion
14:40 – 15:10 Award ceremony (Young Researcher Award Competition)
Final Words
Social events
16:00 Cultural and historical meeting with Longyearbyen (pre-registration)
19:00 Arctic "villmarksaften/wildlife-evening" in Camp Barentz (pre-registration)
Sunday 1st of September
08:15 – 13:00 Boat trip to Barentsburg with Aurora Explorer (pre-registration)