Professor, dr.odont. Thorkild Karring (1937-2016)
Posted 23.08.2016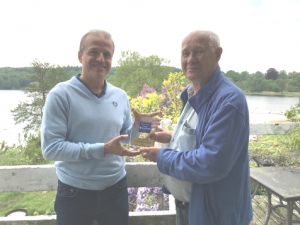 This morning we received the message that Thorkild Karring passed away at the age of almost 79 years. His contribution to the development of Periodontology was outstanding. Thorkild graduated from the School of Dentistry in Aarhus in 1968 where he received the degree of dr.odont. in 1974. He was associate professor at the Department of Periodontology in Aarhus 1972-83, assistant professor, Department of Periodontology, University of Michigan, USA 1973-74 and docent at Department of Periodontology in Gothenburg 1976. In 1983 he became professor and head of Department of Periodontology in Aarhus from where he retired in 2007. Thorkild served as vice-dean at the School of Dentistry in Aarhus 1987-91 and dean 1991-99. He was president of the Scandinavian Society 1988-90.
Thorkild had a comprehensive collaboration with Sture Nyman and Jan Lindhe in Gothenburg and remarkable results were obtained in the area of periodontal wound healing and regeneration. Based on this work, the guided tissue regeneration technique was developed, a technique still used in the clinic around the world to treat periodontal defects. He also contributed to the understanding of periodontal cell population kinetics and free gingival- and connective tissue graft healing and carried out an impressive number of pre-clinical in vivo experimental studies. He has published numerous papers in international scientific journals and in textbooks as well as editing the Textbook of Clinical Periodontology with Prof. Jan Lindhe and Prof. N.P. Lang.
In 2015, Thorkild was honored from the European Federation of Periodontology with the EFP Distinguished Scientist Award, for his life-long contribution in the field. Very recently, in June 2016, the Periodontal Research Group of the IADR announced the creation of an annual competitive award, the Karring – Nyman Sunstar Guidor Award, supporting studies on oral tissue regeneration, to honor his and Nymans contribution to this field.
In 1995 Thorkild Karring married Eva Sidelmann Karring, and our thoughts go to Eva and their daughter Ann in this difficult time.
On behalf of Scandinavian Society of Periodontology
Andreas Stavropoulos and Palle Holmstrup